Make the Right Decision…Insist on Brown's Collision
Sign Up for our online eNewsletter and keep up on the latest industry and shop new.
Post Time - 11:38 PM
Post By - admin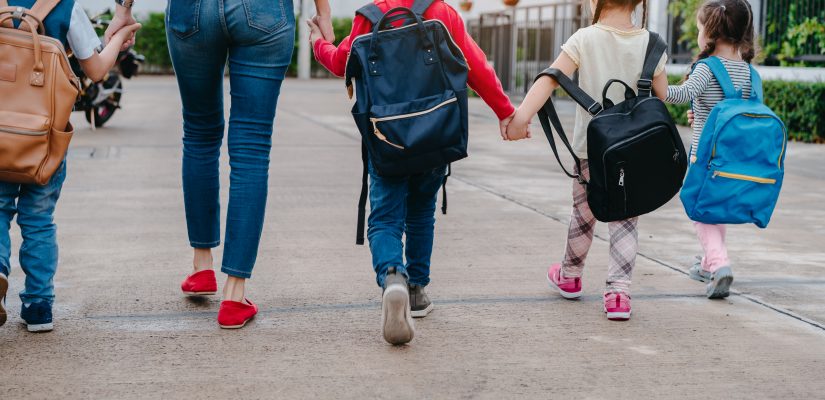 [wp_ulike]
It's Time for Back to School and Time to Get our Safety Hats On
It's time for the kids to pack their backpacks with school supplies and hit the books again for another year of growth. Kids are excited to get back to school, see all their friends, and preparing for many new experiences ahead, and most likely they won't be paying close attention to their surroundings. But we have to remind them that safety is number one!
Going back to school isn't just about simply sending your child on a bus, going to school and riding the bus back home. What about those kids that are not bus riders and what are some of those safety rules we forget and don't think about daily? This is also about the drivers that are passing through school zones, behind school buses and car riders transporting them to and from school. There are some excellent online resources you can use to help remind you of what to keep top-of-mind when it comes to safety. According to the United States Department of Transportation tragically, from 2006 to 2015 there were 301 school-age children (18 and younger) killed in school transportation-related crashes. Visit the USDT for more information. It is very important to pay attention and know simple safety rules.
Here are some general safety tip reminders for the new school year to think about whether you're riding the school bus, walking or a driver in a school safety zone.
School Bus Safety Tips
Children riding the bus to school should learn and practice a few safety rules for getting on and off the bus.
Get to the bus stop early. Do not run to the bus.

Wait until the bus has come to a complete stop before walking toward it.

If crossing the street, wait for a signal from the bus driver.  Look both ways to make sure there is no moving traffic from either direction.

Always cross in front of the bus so the driver can see you.

If the bus has lap and shoulder belts, use them.

Once the bus is in motion, remain in your seat.

If the window is open, keep your arms and head inside the bus at all times.

Do not stand up to get off the bus until it has completely stopped.

Only get off the bus at your assigned spot.
Walking Safety
Children should only walk to school alone if they are old enough and ready to make the walk safely.

Children are not ready to walk to school without an adult until they are at least 10 years old.

Younger kids cannot be trusted to make smart traffic choices on their own.

Plan and practice a safe walking route with your child until they know it well.

Use streets with sidewalks, crosswalks and crossing guards. Avoid as many intersections as possible.

Have children walk with a friend or in a group.

Talk to your child about what to do if they are approached by a stranger.
Safety Tips for Drivers
Drivers should be aware of children walking to school or to the bus stop. Everyone can follow a few safety tips to help kids get to school safely.

When backing out of the driveway, watch for children walking to school or to a bus stop.

On streets without crossing guards, watch out for children trying to cross the street.

Be careful on

streets

without sidewalks or streets with on-street parking. It might be hard to notice a child behind a car.

Be alert. Children may dart into the street without looking.

Slow down.
If you are unaware of the laws and fines for convictions pertaining to passing a school bus in New York, visit the Governer's Traffic Safety Committee's page and read about "Operation Safety Stop".  The law is there to protect our children. The National School Bus Safety Week will run October 21 – 25, 2019. This site also offers a lot more educational information. You can read more resources and tips on school bus safety in the state of New York here.
Be aware of your state's associations and what they have to say in case you find yourself in a situation where you may need to refer to those resources. Visit New State's School Board Association for more information and stay in the know about educational resources, training events, and other district news.
Amsterdam and Johnstown, New York School Resources
If you live in the Johnstown or Amsterdam New York areas, here are some important dates and articles to read about the upcoming school year. We all get very busy and may not pay close attention to time flying by us. Sometimes we find ourselves with too much communication and things get lost or buried. Be sure to check these sites listed below periodically to see what updates have been posted. We all know many times last-minute decisions and communication are made. Follow online social media if your district has one and subscribe to e-news so that you are in the loop about your school district's current events and announcements. Your kids won't want to miss all those important dates during the school year.
Visit Amsterdam, NY Important Back to School Dates
Visit Johnstown, NY Important Back to School Dates
Other General State of New York Educational Resources
If you are looking for more general overall educational resources that are offered by the state of New York visit the New York Educational Department that offers knowledge, skills, and opportunity additionally to your children. Choose online courses, share knowledge and connect with others that have the same interests. It's that time of year to excel.
Looking for grants and funding opportunities? Visit the New York State Education Department. Here you can find the grant applications. Here are some more informational sites if you are looking for grants, scholarships and loan programs available for those older children that are becoming independent adults looking to fill their future educational dreams. Visit The New York State Higher Education Services Corporation and the College Scholarships Organization.
If you have a child with special needs visit The New York Institute for Special Education. This nonprofit organization provides quality programs for children in need including blind or visually disabled, emotionally and learning disabled and preschoolers who are developmentally delayed.
Help our Teachers, Schools, and Students. Help Make a Difference.
As parents, we know how important the education of our children is. If you wish to support teachers and schools for all they do visit the National Education Association Red for Ed and use your voice to protect public schools.
Visit the Education Trust-New York to help ensure New York students are getting the education and leaders they deserve. The Education Trust–New York is a statewide education policy and advocacy organization focused first and foremost on doing right by New York's children. Although many organizations speak up for the adults employed by schools and colleges, they advocate for students, especially those whose needs and potential are often overlooked.
At Brown's Collision and Brown's Collision & Coachworks we care deeply about the community and its children's education and safety is a number one priority with everything we do. Please be safe on the roads, watch for children and be sure to follow the rules around bus stops and school zones.
We're a family-owned and operated collision repair shop and has been providing the Capital District and surrounding counties automotive repair needs for over half a century! If you need auto collision repair services, contact us today!